APPOINTMENTS
Please call us for your appointment at (910) 295-4343 or email us at pinehurstdentist@gmail.com. You may request to be appointed with the Hygiene Team for routine re-care or with one of the Dentists if you need a specific consultation.
Our office hours are Monday and Thursday from 8-3pm and Tuesday and Wednesday 8-1pm and 2-4pm. We are open one Friday per month from 8am to 12pm. If you have special needs with your schedule, we often can accommodate you so please do not hesitate to ask us.
Appointment Confirmation
We utilize different methods to confirm dental appointments with our patients. Patients may select text messages, email or voicemail/cell phone/home phone for appointment reminders. Our office wants to make it convenient for our patients to readily communicate with us.
OUR OFFICE
Our office is conveniently located off of the Pinehurst Traffic Circle at 15 Aviemore Drive, Pinehurst, North Carolina. We are one block
from Moore Regional Hospital.  We are behind the Pinehurst Medical Clinic and adjacent to First Health Community Services on Aviemore Drive.
Allison and Associates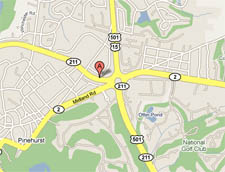 Shannon Allison, DDS, PA
15 Aviemore Dr.
Pinehurst, NC 28374
910-295-4343
We encourage you to stop by and take a tour of the office. We have chosen interior design which has a residential feel in a professional atmosphere